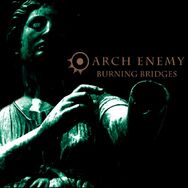 Burning Bridges is the third album by the Swedish band Arch Enemy.
The music here shifted towards a more polished thrash-influenced melodic death metal sound.
A music video was released for "The Immortal".
It is the last studio recording to feature vocalist Johan Liiva.
The album was reissued on May 25, 2009. Featuring original vocalist Johan Liiva, the reissue has a new layout, remastered sound, packaging & bonus tracks. Contains original artwork, liner notes by Johan Liiva and a tracks by track commentary by guitarist Michael Amott.
Track listing
Edit
"The Immortal" - 3:43
"Dead Inside" - 4:13
"Pilgrim" - 4:33
"Silverwing" - 4:08
"Demonic Science" - 5:23
"Seed of Hate" - 4:09
"Angelclaw" - 4:06
"Burning Bridges" - 5:31
Personnel
Edit
Personnel credits adapted from Burning Bridges album liner notes.
Arch Enemy
Production
Fredrik Nordström − producer, engineer, keyboards
Per Wiberg – mellotron and grand piano on "Burning Bridges"
Göran Finnberg – mastering
Ulf Horbelt – re-mastering
Anna Sofi Dahlberg – artwork, photography, layouts
Tony Hunter – band photography
Adde – band photography on page 16
Media Logistics GmbH – additional layout
Philipp Schulte – product coordination
Ad blocker interference detected!
Wikia is a free-to-use site that makes money from advertising. We have a modified experience for viewers using ad blockers

Wikia is not accessible if you've made further modifications. Remove the custom ad blocker rule(s) and the page will load as expected.