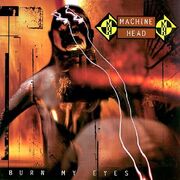 Burn My Eyes is the debut album by American heavy metal band Machine Head. The album's themes generally tie into the social disorder and corresponding inner tension that the band was exposed to in their native Oakland, California, reflected in Robb Flynn's lyrics.
Album information
Edit
The songs make references to some certain well-publicized controversies, such as the 1992 Los Angeles Riots (heard in dialogue on "Real Eyes, Realize, Real Lies") and the Waco Siege of 1993 ("Davidian"). Elsewhere, there are tales of physical and mental abuse ("None But My Own", "The Rage To Overcome"), the condemning of profits from religious soliciting ("Death Church"), succumbing to substance abuse ("I'm Your God Now") and aforementioned themes of urban decay, social unrest, rebellion, belligerence, and socio-political commentary.
Stylistically, the album is credited as having bridged the gap between Pantera-style groove and the thrash metal stylings of Slayer's 80's output. Compared to their concurrent releases, it is probably their most raw and aggressive recording thus far, and the style is somewhat harkened back to on their post-Supercharger output.
The release of this album was followed shortly by numerous tours, which eventually led to drummer Chris Kontos leaving the band, and being replaced after careful consideration by the current drummer Dave McClain.
The album has since became a lasting success. In 1994, it quickly became a Roadrunner Records best seller and was the label's best-selling debut album for a number of years, until the release of Slipknot's 1999 self-titled debut.
Track listing
Edit
All lyrics written by
Robb Flynn
, all music composed by
Machine Head
.
No.
Title
Length
1.
"Davidian"  
4:55
2.
"Old"  
4:05
3.
"A Thousand Lies"  
6:13
4.
"None But My Own"  
6:14
5.
"The Rage to Overcome"  
4:46
6.
"Death Church"  
6:32
7.
"A Nation on Fire"  
5:33
8.
"Blood for Blood"  
3:40
9.
"I'm Your God Now"  
5:50
10.
"Real Eyes, Realize, Real Lies"  
2:45
11.
"Block"  
4:49

Total length:

55:32
Personnel
Edit
Ad blocker interference detected!
Wikia is a free-to-use site that makes money from advertising. We have a modified experience for viewers using ad blockers

Wikia is not accessible if you've made further modifications. Remove the custom ad blocker rule(s) and the page will load as expected.