Bloodthirst
Album info
Release
October 19, 1999
Recorded
1999 at Village Productions, Tornillo, Texas
Genre
Death metal
Length
33:10
Label
Metal Blade
Producer
Colin Richardson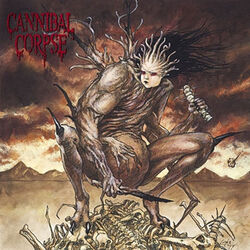 Bloodthirst is the seventh studio album by American death metal band Cannibal Corpse, and the third to feature George 'Corpsegrinder' Fisher as vocalist. It was released in October 19, 1999 through Metal Blade Records.
Track listing
Edit
"Pounded into Dust" (Alex Webster) – 2:17
"Dead Human Collection" (Paul Mazurkiewicz, Pat O'Brien) – 2:30
"Unleashing the Bloodthirsty" (Webster) – 3:50
"The Spine Splitter" (Mazurkiewicz, Jack Owen) – 3:10
"Ecstacy in Decay" (Mazurkiewicz, O'Brien) – 3:12
"Raped by the Beast" (Mazurkiewicz, Owen) – 2:34
"Coffinfeeder" (Webster) – 3:04
"Hacksaw Decapitation" (Mazurkiewicz, O'Brien) – 4:12
"Blowtorch Slaughter" (Mazurkiewicz, Webster) – 2:33
"Sickening Metamorphosis" (Webster) – 3:24
"Condemned to Agony" (Webster) – 3:44
Personnel
Edit
Cannibal Corpse
Production
Produced by Colin Richardson
Ad blocker interference detected!
Wikia is a free-to-use site that makes money from advertising. We have a modified experience for viewers using ad blockers

Wikia is not accessible if you've made further modifications. Remove the custom ad blocker rule(s) and the page will load as expected.