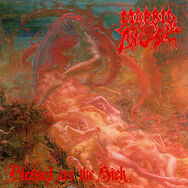 Blessed Are the Sick is the second official release from death metal band Morbid Angel. It features an overall slower musical sound, although containing very fast riffs, and reveals another side of the band, with classical music undertones (main composer Trey Azagthoth would dedicate this album to Mozart). Tracks 8, 9, 10 and 12 are re-recorded songs from the 1986 demo Abominations of Desolation.
The cover painting is "Les Trésors de Satan" by Jean Delville.
The album was reissued in 2009 as a Digipak in DualDisc format. The CD side contains the original audio release and the DVD side contains a one-hour documentary.
Track listing
Edit
"Intro" - 1:27
"Fall from Grace" - 5:13
"Brainstorm" - 2:34
"Rebel Lands" - 2:41
"Doomsday Celebration" - 1:49
"Day of Suffering" - 1:54
"Blessed Are the Sick/Leading the Rats" - 4:47
"Thy Kingdom Come" - 3:24
"Unholy Blasphemies" - 2:10
"Abominations" - 4:27
"Desolate Ways" - 1:40
"The Ancient Ones" - 5:53
"In Remembrance" - 1:25
Ad blocker interference detected!
Wikia is a free-to-use site that makes money from advertising. We have a modified experience for viewers using ad blockers

Wikia is not accessible if you've made further modifications. Remove the custom ad blocker rule(s) and the page will load as expected.