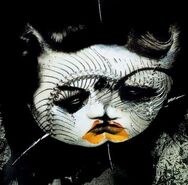 Black Earth is the first album by the Swedish melodic death metal band Arch Enemy. The album was reissued on April 24, 2007 on Regain Records, featuring "Losing Faith", two Iron Maiden covers and the video for "Bury Me an Angel".
During the time of recording Black Earth, Arch Enemy was more of a solo project. Michael Amott wrote all of the songs and played bass guitar on the album. Although Johan Liiva is cited as playing the bass, Michael later stated in an interview that he had it credited that way to make it seem more of a "band effort." Christopher Amott, who was attending music college at the time, only contributed his leads on the album, leaving Michael to record all the rhythm tracks.
Track listing
Edit
"Bury Me an Angel" - 3:40
"Dark Insanity" - 3:16
"Eureka" - 4:44
"Idolatress" - 4:56
"Cosmic Retribution" - 4:00
"Demoniality" - 1:19
"Transmigration Macabre" - 4:09
"Time Capsule" - 1:09
"Fields of Desolation" - 5:31
Personnel
Edit
Personnel credits adapted from Black Earth album liner notes.
Arch Enemy
Production=
Fredrik Nordström – producer, engineer, mixing, keyboards
Wez Wenedikter – executive producer, design
Baskim Zuta – assistant engineer
Miran Kim – cover art
Kenneth Johansson – band photography
Urszula Striner – model photography
Sara Grundquist – model
Johanna Lindskough – make-up artist
M&A Music Art – layout
Ad blocker interference detected!
Wikia is a free-to-use site that makes money from advertising. We have a modified experience for viewers using ad blockers

Wikia is not accessible if you've made further modifications. Remove the custom ad blocker rule(s) and the page will load as expected.