Album overview
Edit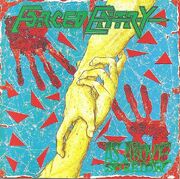 As Above, So Below
is the second album from
Forced Entry
. It's mostly in the
thrash metal
vein, although with some humor included (tracks 5 and 10, with those choruses being happily yelled for effect) and some singing from guitarist
Brad Hull
("
Never a Know, But The No
", which is mostly slow to mid-paced, rather than being
thrash
, although it has the most solos of any other song on the album), rather than the usual yelled vocals of bassist
Tony Benjamins
.
There's also the usual tempo changes and all, as "Macrocosm, Microcosm" alternates between its technical leads to being near thrash metal, and the majority of opener "Bone Crackin' Fever" is thrash, save for the sudden tempo slowdown at 2:59, which "As of Yesterday" also has time changes, like with its initial fast riffs (until its tempo change after about 40 seconds), there's a mellow part after about two minutes, then has a fast thrash metal ending.
Also following similar suit is "When One Becomes Two", being thrash metal for a while until its slowdown at 1:50 (and then it slowly speeds back up), then later slows down and mellows out with some singing again, and "Apathy" is also mostly fast until it slows down, which it stays at that speed throughout the majority of the song until about the four minute mark.
And as was mentioned before, the album also has some humor in it, which is evidenced by the thrash tune "We're D*cks" and the ending [fellow thrash] song of "How We Spent Our Summer Vacation", but it doesn't have a lot of lyrics (the chorus gets repeated a lot) and ends with the intro from "Bone Crackin' Fever".
The album was released in 1991 by Relativity Records.
Track list
Edit
Personnel
Edit
"Never a Know, But The No" and "Macrocosm, Microcosm" videos
References
Edit
↑

As Above, So Below liner notes
Ad blocker interference detected!
Wikia is a free-to-use site that makes money from advertising. We have a modified experience for viewers using ad blockers

Wikia is not accessible if you've made further modifications. Remove the custom ad blocker rule(s) and the page will load as expected.