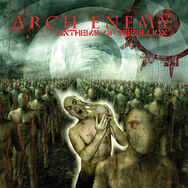 Anthems of Rebellion is the fifth studio album by Swedish melodic death metal band Arch Enemy. This is the only Arch Enemy album to feature clean vocals. The clean vocals were sung by Christopher Amott on "End of the Line" and "Dehumanization".
A music video was produced for the album's single, "We Will Rise," which saw moderate airing on Headbanger's Ball and Uranium. It featured a legion of people racing across a beach under a darkened sky. According to the band, one of the participants in the video hurt an ankle considerably in leaping off a large hill but did not sue.
A video was also produced for Dead Eyes See No Future, which consisted of a live performance. The song also appeared on the Alone in the Dark Original Soundtrack.
Track listing
Edit
"Tear Down the Walls" - 0:32
"Silent Wars" - 4:14
"We Will Rise" - 4:06
"Dead Eyes See No Future" - 4:14
"Instinct" - 3:36
"Leader of the Rats" - 4:20
"Exist to Exit" - 5:22
"Marching on a Dead End Road" - 1:16
"Despicable Heroes" - 2:12
"End of the Line" - 3:35
"Dehumanization" - 4:15
"Anthem" - 0:56
"Saints and Sinners" - 4:41
Personnel
Edit
Arch Enemy
Production
Ad blocker interference detected!
Wikia is a free-to-use site that makes money from advertising. We have a modified experience for viewers using ad blockers

Wikia is not accessible if you've made further modifications. Remove the custom ad blocker rule(s) and the page will load as expected.