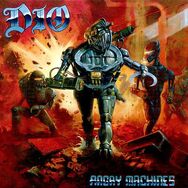 Angry Machines is the seventh studio album from the heavy metal band Dio. It was released first in Japan on October 4th, 1996 by Mercury Music Entertainment with 11 tracks and in the USA on October 15, 1996 on Mayhem Records but with only 10 tracks. It was the last studio album to feature original drummer Vinny Appice.
Track listing
Edit
"Institutional Man" (Dio, Tracy Grijalva, Vinny Appice) – 5:00
"Don't Tell the Kids" (Dio, Grijalva, Appice) – 4:13
"Black" (Dio, Grijalva, Appice, Jeff Pilson) – 3:06
"Hunter of the Heart" (Dio, Grijalva, Appice) – 4:06
"Stay Out of My Mind" (Dio, Pilson) – 6:57
"Big Sister" (Dio, Grijalva, Appice, Pilson) – 5:27
"Double Monday" (Dio, Grijalva, Appice) – 2:50
"Golden Rules" (Dio, Grijalva, Appice) – 4:46
"Dying in America" (Dio, Grijalva, Appice, Pilson) – 4:31
"God Hates Heavy Metal" (Bonus Track) – 3:45
"This is Your Life" (Dio, Grijalva) – 3:18
*The bonus track can be found on the Japanese pressing of the album
Personnel
Edit
Dio
Production
Recorded and mixed at Total Access, Redondo Beach, California, USA
Produced by Ronnie James Dio
Engineered by Wyn Davis
Second engineered by Darian Rundall and Eddie Ashworth
Originally mastered by Eddy Schreyer at Oasis Mastering
Cover illustration by Paul Gregory at Studio 54
Ad blocker interference detected!
Wikia is a free-to-use site that makes money from advertising. We have a modified experience for viewers using ad blockers

Wikia is not accessible if you've made further modifications. Remove the custom ad blocker rule(s) and the page will load as expected.