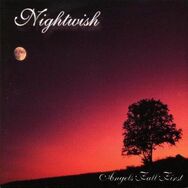 Angels Fall First is the first studio-album by Finnish symphonic metal band Nightwish, released on the Finnish label Spinefarm Records. Released in November of 1997, it reached number 31 on the finnish album-charts. The album included previously released single The Carpenter.
Track Listing
Edit
"Elvenpath" - 4:40
"Beauty and the Beast" - 6:27
"The Carpenter" (only single) - 5:57
"Astral Romance" - 5:12
"Angels Fall First" - 5:34
"Tutankhamen" - 5:31
"Nymphomaniac Fantasia" - 4:47
"Know Why the Nightingale Sings" - 4:14
"Lappi (Lapland)" (divided in 4 parts) - 9:20
"A Return to the Sea" (bonus track) - 5:46
"Once Upon a Troubadour" (bonus track) - 5:21
Personnel
Edit
The band

Main Crew

Tero Kinnunen - Sound engineer
Mika Jussila - Mastering engineer
Garry Black - Cover Artwork
Toni Härkönen - Band Photography
Ad blocker interference detected!
Wikia is a free-to-use site that makes money from advertising. We have a modified experience for viewers using ad blockers

Wikia is not accessible if you've made further modifications. Remove the custom ad blocker rule(s) and the page will load as expected.