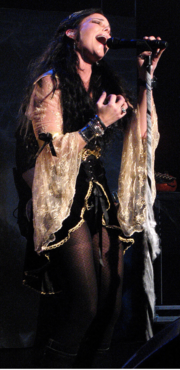 Anette Olzon (Married name Anette Blyckert) is a vocalist born in Katrineholm, Sweden in 1971.
Raised in a very musical family, she has been singing since early childhood. She also played the Oboe for 8 years. She was a student at the Academy of Ballet in Gothenburg Sweden, the Music Conservatory in Copenhagen, Denmark and has been a part of several bands - for example Swedish cover band Take Cover, that she joined at the age of seventeen. She was also a member of Alyson Avenue - a band in Sweden wich released two albums with Anette as main vocalist. Starred in a rock-opera/musical called "Gränsland" at age 21, several quire-sessions and also did a duet with Michael Borman (Ex. Jaded Heart) on his album "Conspiracy".
She was the vocalist of the band Nightwish from 2007 to 2012, and released two albums with them, Dark Passion Play and Imaginaerum.
Ad blocker interference detected!
Wikia is a free-to-use site that makes money from advertising. We have a modified experience for viewers using ad blockers

Wikia is not accessible if you've made further modifications. Remove the custom ad blocker rule(s) and the page will load as expected.