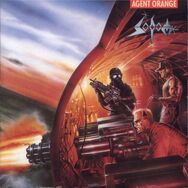 Agent Orange is the third album by the German thrash metal band Sodom, their last with guitarist Frank Blackfire before he left the band and joined Kreator. The lyrical content delves deeply into Tom Angelripper's fascination with the Vietnam War, with a song dedicated to the ground assault aircraft AC-47 as well as the Agent orange defoliant-inspired title-track. It was the first thrash metal album to enter the German album charts where it reached number 36. It sold about 1,000,000 copies and marked the commercial break through for the band. The song "Ausgebombt" was released on the EP Ausgebombt with German lyrics.
In March 2010, Agent Orange was re-released in a digipak with bonus tracks and liner notes containing lyrics and rare photos.
Track listing
Edit
"Agent Orange" – 6:04
"Tired and Red" – 5:25
"Incest" – 4:38
"Remember the Fallen" – 4:20
"Magic Dragon" – 5:59
"Exhibition Bout" – 3:35
"Ausgebombt" – 3:04
"Baptism of Fire" – 4:03
"Don't Walk Away" – 2:56 (Tank cover)
Remastered
Edit
"Incest" (live) – 4:18
"Agent Orange" (live) – 5:26
"Tired And Red" (live) – 5:01
"Remember The Fallen" (live) – 4:05
"Ausgebombt" (live) – 3:47
"Ausgebombt" (german version) – 3:06
Personnel
Edit
Tom Angelripper – vocals/bass guitar
Frank Blackfire – guitars
Chris Witchhunter – drums
Ad blocker interference detected!
Wikia is a free-to-use site that makes money from advertising. We have a modified experience for viewers using ad blockers

Wikia is not accessible if you've made further modifications. Remove the custom ad blocker rule(s) and the page will load as expected.