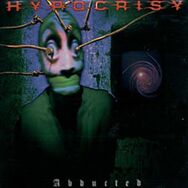 Abducted is the fourth studio album released by Swedish melodic death metal band Hypocrisy. The album was released on February 13, 1996.
Track listing
Edit
"The Gathering" - 1:09
"Roswell 47" - 3:56
"Killing Art" - 2:55
"The Arrival of the Demons (part 2)" - 3:17
"Buried" - 3:11
"Abducted" - 2:50
"Paradox" - 4:32
"Point of No Return" - 3:54
"When the Candle Fades" - 5:30
"Carved Up" - 3:28
"Reflection" - 2:37
"Slippin' Away" - 5:13
"Drained" - 4:28
Personnel
Edit
Hypocrisy
Production
Produced and mixed by Peter Tägtgren
Recorded and mixed in Abyss Studio, Sweden, March – October 1995
Engineered by Hypocrisy
Mastered by Peter In De Betou at Cuttingroom, Solna, Sweden
Photo, art and design by P Grøn, Sweden
Ad blocker interference detected!
Wikia is a free-to-use site that makes money from advertising. We have a modified experience for viewers using ad blockers

Wikia is not accessible if you've made further modifications. Remove the custom ad blocker rule(s) and the page will load as expected.