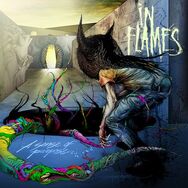 A Sense of Purpose is the ninth studio album by Swedish band In Flames. The album was released in first Japan on March 26, 2008 with 15 tracks and later in Europe on April 4, 2008 through Nuclear Blast and through Koch Records in North America on April 1. This is the band's last album to feature any of the original band members (founding guitarist Jesper Strömblad quit in early 2010). The album debuted at number 1 on the official Swedish album chart.
Track listing
Edit
"The Mirror's Truth" - 3:02
"Disconnected" - 3:37
"Sleepless Again" - 4:12
"Alias" - 4:53
"I'm the Highway" - 3:46
"Delight and Angers" - 3:41
"Move Through Me" - 3:08
"The Chosen Pessimist" - 8:16
"Sober and Irrelevant" - 3:24
"Condemned" - 3:36
"Drenched in Fear" - 3:32
"March to the Shore" - 3:30
Personnel
Edit
The following people contributed to A Sense of Purpose:
In Flames
Additional personnel
Recorded at IF Studios, Gothenburg, Sweden
Produced by In Flames, Roberto Laghi and Daniel Bergstrand
Mixed by Toby Wright
Assisted by James Musshorn at Skip Saylor Recordings, Los Angeles, California
Mastered by Stephen Marcussen at Marcussen Mastering Studios, Hollywood, California
Drum Recording – Roberto Laghi
Vocal Recording – Daniel Bergstrand and Anders Fridén
Bass Recording – Roberto Laghi
Guitar Recording – Roberto Laghi, Björn Gelotte and Jesper Strömblad
Additional drum editing – Arnold Linberg
Keys and programming – Örjan Örnkloo at Wasteland Studios
Written by Anders Fridén, Björn Gelotte, Jesper Strömblad
Arranged by In Flames
All songs published by Kobalt Music
Illustrations, art direction and design by Alex Pardee
Ad blocker interference detected!
Wikia is a free-to-use site that makes money from advertising. We have a modified experience for viewers using ad blockers

Wikia is not accessible if you've made further modifications. Remove the custom ad blocker rule(s) and the page will load as expected.