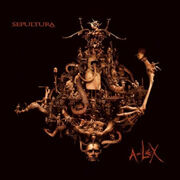 A-Lex is the tenth studio album by Brazilian heavy metal band Sepultura. It was released on January 27, 2009 by independent German record label Steamhammer Records. This is the first album featuring new drummer Jean Dolabella, since the departure of Igor Cavalera in 2006.
This is the second concept album released by Sepultura, following 2006's Dante XXI which was based on Dante Alighieri's The Divine Comedy. A-Lex is based on the 1962 book A Clockwork Orange by Anthony Burgess, which in 1971 was adapted into a by Stanley Kubrick.
Track listing
Edit
"A-Lex I" - 1:53
"Moloko Mesto" - 2:09
"Filthy Rot" - 2:45
"We've Lost You!" - 4:13
"What I Do!" - 2:01
"A-Lex II" - 2:18
"The Treatment" - 3:23
"Metamorphosis" - 3:01
"Sadistic Values" - 6:50
"Forceful Behavior" - 2:27
"Conform" - 1:54
"A-Lex III" - 2:03
"The Experiment" - 3:28
"Strike" - 3:40
"Enough Said" - 1:36
"Ludwig Van" - 5:29
"A-Lex IV" - 2:46
"Paradox" - 2:15
Personnel
Edit
Derrick Green – Vocals, Choir, Chorus
Andreas Kisser – Guitars, Acoustic guitar (4), Chorus Arrangements, Choir Arrangements
Stanley Soares – Producer, Engineer, Mixing
Monika Cavalera – Executive Producer, Management
Eduardo Queiroz – Keyboards
Sergio Roberto de Oliveira – Additional Bass
Fernando Lopez – Trumpet
Mario Sergio Rocha – French Horn
Alejandro DeLeon – Viola
Wagner Lavos – Violoncello
Fábio Brucoli – Violin
Alex B. Ximenes – Violin
George Marino – Mastering
Eric Sanchez – Picture
Ulisses Razaboni, Mario Niveo, Rodrigo Almeida, Marco Piza – Artwork
Ad blocker interference detected!
Wikia is a free-to-use site that makes money from advertising. We have a modified experience for viewers using ad blockers

Wikia is not accessible if you've made further modifications. Remove the custom ad blocker rule(s) and the page will load as expected.